Dear Tiffany Families,
I hope this email finds you well on this weekend.  We have so many incredible activities happening on our campus!  Be sure to stay up to date by reading our weekly messages.  Here is the information for the week:
THANK YOU For An INCREDIBLE Tiger Trek
ELAC – English Learner Advisory Committee Meeting on Wednesday 9am
Please join us for our next ELAC meeting on Wednesday, October 25th at 9am.  While this committee is designed for families of Multi-lingual learners, it is open to all.  We hope to see you there!
Red Ribbon Week This Week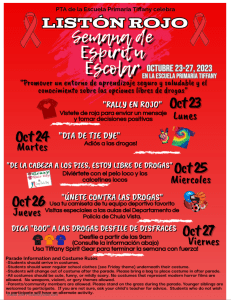 Red Ribbon Week 2023 flyerSpan FINAL
Red Ribbon Week 2023 flyer Eng FINAL
Costume Parade on Friday
On Friday, we will be hosting our "Say 'Boo' to Drugs Costume Parade."  Families are welcome to attend, however, you must sign in through the office in order to do so.  Please allow EXTRA TIME to sign in at our kiosk in the office.  If your ID has already been scanned, your will just type in your name to check in.  If you have not had your ID scanned previously, you will need to do that ahead of time.  This process can be done anytime, so drop by our office and we can take care of it for you.
When you drop off your child in the morning, the playground will be cleared and we will ask that you re-enter through the office.  Thank you for your support.
As for the parade itself, students can wear costumes, if they choose.  Regular clothes are to be warn under their costumes for ease of changing after the parade.  Costumes will not be allowed to be worn during the school day.  Costumes should be school appropriate – no weapons, masks, blood, gore, etc.
Students who do not participate in the parade will have an alternate activity in the library.
We look forward to this event!
Fall Carnival is on Friday – 5pm-8pm

Haunted School Donations Needed 
Please bring any donations to our front office – thank you for your support!
Parking Lot Safety
For your review, here are the traffic and parking lot expectations:
Red Curbs – "as required under California Vehicle Code Section 21458(a)(1), a curb painted red shall indicate no stopping, standing, or parking whether the vehicle is attended or unattended." 
The left lane in the parking lot is for traffic to move through.  Parking/stopping in the left lane blocks cars from being able to exit.  Students should not exit or enter vehicles that are in the left lane.
Use crosswalks for crossing the street and parking lot.  When dropping students off, please be sure that they exit the vehicle on the right so that they get out directly onto the sidewalk closest to the school building.
Follow traffic patterns and do not double park along parking spaces.
We understand that the painting of the additional red curb is a major shift and it impacts how pick up and drop off has been for a very long time.  The red curbs are because that is the current building code and we must adjust to fulfill this new requirement.  Thank you, in advance, for keeping our students safe and thank you to those who are following our expectations in the parking lot.
I am excited to share with you that Safety Patrol is coming back after a long hiatus!  Ms. Brauer and Ms. Bertrand, along with a group of 5th and 6th graders are gearing up to start patrol before and after school.  They are in the process of beginning their training with CVPD and we be out in the parking lot soon!
If you would like to volunteer in our parking lot, please let me know at crystal.sutton@cvesd.org.
Everyday Counts – Attendance Reminders
Just a reminder that our gates open for breakfast and the track at 8:10am – we encourage our families to take advantage of this opportunity, as you beat the parking lot rush!  School starts promptly at 8:45am and students should be in line by 8:40am.
If a student is sick with a fever, bowel issues, committing, COVID, flu, etc., they should not attend school.  Also keep in mind that students who have a 100+ degree temperature may not come to school and can return after they have been fever free for 24 hours without medication.
Again, here are tips for attendance to know what is excused and what is not:
Please call the office to report any absences and the reason for the absence.

Excused Absences: illness, doctor appointments for the student, military engagements (ex. ceremony, return from deployment), death of an immediate family member, etc.
Unexcused Absences:  appointments for other family members, out of town, vacations, etc.
Independent Study:  If you know ahead that your child might need to miss school (ex. family reunion), please contact your child's teacher and our office to set up an independent study contract.  Independent Study contracts are available for 3 or more days, but not more than 14 cumulative days in a school year.  Independent Study Contracts should be requested at least one week in advance.
Tardy:  Students are considered tardy if they are not in class by 8:45am.
COVID absences are cleared with a POSITIVE test result.  Current guidelines require positive individuals to stay home for 5 days and mask through Day 10 on campus.
Campus Clinic Resources
Here's to a great week!
Take Care,
Dr. Sutton