Hello Tiffany Elementary!!
My name is Audriane Flamand, but you can call me 
Ane
 (On-ā).  I have the honor and privilege of serving as your Parent-Teacher Association (PTA) President for the 2022/23 school year.  My teenager is currently attending Eastlake High School, but you'll probably see my two little tigers running around the campus! The year before last, I was blessed to have found a friend and mentor in Kelly Gaona, last year's PTA president and this year's PTA Parliamentarian.  Alongside and with the help of a number of amazing parents and staff members, I'm confident that the 2022/23 PTA is going to deliver a spectacular school year!!
Please consider joining the PTA this year and volunteering for what we hope will be an event-filled year!! The PTA would be nothing without our amazing Tiffany parents and staff.
And don't be shy!!  Come up and say "hi" anytime!! See you around the campus!
Audriane Flamand
PTA President 2022-2023
Tiffany Elementary School
JOIN PTA by Clicking HERE
PTA Calendar of Events
We are proud to say that Tiffany has a thriving PTA.  Stay connected with PTA using the following platforms: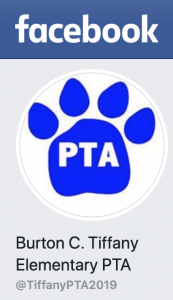 https://www.facebook.com/TiffanyPTA2019
https://www.instagram.com/burtonctiffanypta/